BSF presents The Knight Of The Burning Pestle
The Baltimore Shakespeare Factory performs The Knight Of The Burning Pestle – this is lots of fun – won't you join us! Performances are staged inside the Boordy Barn. 
A send-up of courtly romance, The Knight Of The Burning Pestle is the reason BSF produces Shakepeare's contemporaries: Bill never wrote anything this bawdy or satirical. A normal play about a London grocer is interurupted by the audience and rewritten on the fly to become an increasingly absurd chivalric epic that leaves no target un-pricked. Interactive, over-the-top, and best for patrons over the age of 13.
Food by:
December 1 – Pasta La Vista Baby
December 15 – Greek On The Street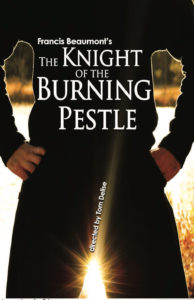 FAQ's about attending Shakespeare In The Barn
Only food purchased at Boordy is permitted in the Boordy Barn, Tasting Room & Winecellar.
You may not bring in alcohol other than Boordy wines.
Service dogs are welcomed, no other pets allowed.
No sporting equipment and ball games at Boordy.
We have picnic tables that fill up quickly. Please use one table per group. Our tables cannot be reserved.
Parents – please keep your children with you at all times. Boordy accepts no responsibility for accident or injury caused to children who are not properly monitored. Boordy Vineyards is an operating farm with equipment and fences that are not for children to climb on. Thank you for your cooperation.
Visiting Boordy is a rural experience, please watch for uneven ground and natural hazards.