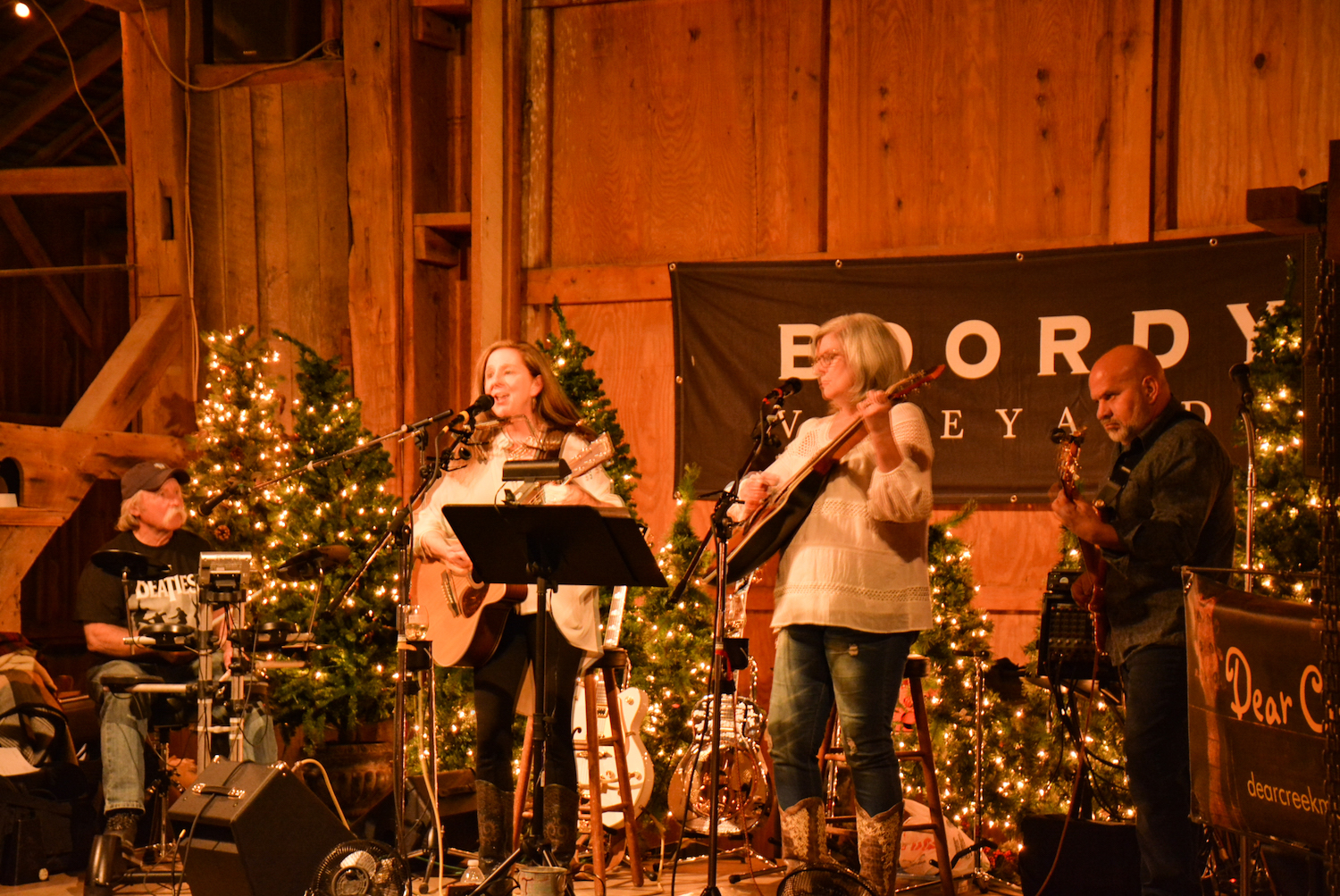 Join us in the Barn this November and December for Music & Wine & Food Truck Fare. On Saturdays & Sundays we offer music by some of our favorite local musicians and food from La Barrita or Bmore Taqueria. May we suggest that you choose one of our Wine Flights to be served to you at your table, a luscious way to learn about our handcrafted wines.
Band & Food Truck schedule:
Sat. Nov. 19 Jay Swanson – Pasta La Vista Baby
Sun. Nov. 20 Dan Haas – B'More Taqueria
Sat. Nov. 26 Raul Del Moral – Pasta La Vista Baby
Sun. Nov. 27 Raul Del Moral – La Barrita
Sat. Dec. 3 – Josh Christina – Wanna Pizza  This
Sun. Dec. 4 – Ricky Olaguer & James Jones Duo – La Barrita
Sat. Dec. 10 – A Very Merry Jay Swanson Christmas – Pasta La Vista Baby
Sun. Dec. 11 – It's The Holidays With Dan Haas – La Barrita
Fri. Dec. 16 – Maryland Opera Sounds Of The Season
Sat. Dec. 17 – Christmas With Raul – Pasta La Vista Baby
Sun. Dec. 18 – Christmas With Raul – La Barrita
Fri. Dec 23 – WORDSMITH  at Boordy
Dec. 25 & Dec. 26 – Boordy is closed for Christmas
Fri. Dec. 30 – Happy New Year With Jay Swanson
FAQs about visiting Boordy Vineyards:
MONDAY – SATURDAY all visitors must be 21 years and up.
SUNDAY – Families with under 21 years of age are welcomed. Please keep your children with you. Boordy accepts no responsibility for injury caused to children who are not properly chaperoned.
FOOD purchased at Boordy is the only food permitted in the Boordy Barn, with one exception – we welcome birthday or anniversary cake & cupcakes. (please don't bring confetti and balloons)
LIMOS & BUSES & GROUPS OVER 10 please let Sally Buck know when you plan to arrive. 410-592-5015 or  

[email protected]

.

RAIN OR SHINE for all activities at Boordy.
SERVICE DOGS are welcomed, but no other pets are allowed.
ALCOHOL other than Boordy wine may not be brought in.
UNEVEN GROUND & NATURAL HAZARDS: Visiting Boordy is a rural experience, please watch for uneven ground and natural hazards.